Jo'Mase the Wizard's Role-Playing HomePage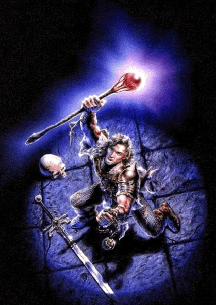 This site is currently going over a major overhaul. I just received Microsoft FrontPage 98, and it is making my life much easier! Please bear with me! Any suggestions/recommendations are gladly encouraged. Please let me know. Bright Blessings from Jo'Mase!
A little about myself... I currently play AD&D via email. I am in a Forgotten Realms campaign, and another home-based campaign called the World of Theophilia, Island of Rodara, that you can get a glimpse of here.
On a separate note, I also love the outdoors, camping, fishing, hiking, mountain bike riding, and the like. I have two young boys, ages 6 and 3, and a wonderful wife who is a certified massage therapist. If you live in the Boise, Idaho area, you can contact her at: dallarda20@hotmail.com
Some of my more favorite sites
Back to Top  
---
Please fill out this form and tell me what you think about this page and how I might improve it.
Back to Top  
---
Sign My Guestbook
View My Guestbook
The "Administrative" Stuff
This Lolth´s Kiss site is owned by Jo'Mase.


Want to join the ring? Click HERE to sign up.
This AD&D Ring site is owned by Jo'Mase.
[ Next Site | Previous Site | Navigation Bar
| Skip next site | Skip previous site | List next 5 sites
| Search the ring | Random Site | Ring Homepage |How to Join ]

This Role Playing Gamers Webring site is owned by Jo'Mase.

[ Random ]

Want to join the ring? Get the info .


This Gameties site owned by Jo'Mase.
[ Previous 5 Sites | Previous | Next | Next 5 Sites | Random Site | List Sites ]
Back to Top